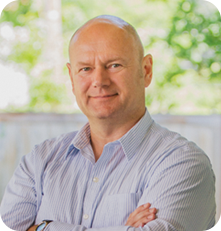 Dan Schlaff
Chief Operations & Compliance Officer
Dan joined the Clarity team in November 2011 with over two decades of proven leadership experience. His strengths and experience are instrumental in keeping Clarity relevant and a leader in the marketplace.
As Chief Operations and Compliance Officer, Dan provides direction and guidance on strategy, decision-making and goal attainment for project management, quality assurance, information systems and security, development operations, and vendor management. His collaborative approach, one of the tenants of Clarity's culture, consistently optimizes business objectives and refines goals to promote client centric efficiencies. Dan's core strength in team building and designing scalable, long term business strategies have proven to increase client care during periods of consistent growth.
Dan previously served as COO at Ventus Networks, a technology company providing intelligent infrastructure and secure financial frameworks to the telecommunications and financial sectors. Dan also served in the US Navy, retiring as Assistant Chief of Staff, Submarine Logistics, Northeast.
Dan is a graduate of the New School University, with a Bachelor of Science in Human Resource Management. He is also trained in Lean Six Sigma and holds an executive certification in Project Management.