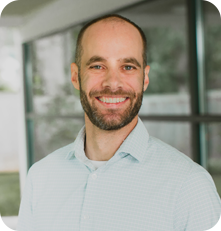 Drew Corbett
Vice President, Product Innovation
Drew joined Clarity in 2020 with 15 years of member engagement and healthcare strategy experience. Prior to joining Clarity, Drew was a Director of Innovation Consulting at Healthbox, Inc, a HIMSS company. In this role Drew advised innovation departments within traditional healthcare organizations on strategy, product development, and go-to-market planning for employee developed innovations.
Prior to Healthbox, Drew served in both an executive account management, as well as strategic product management role at Welltok. During his time there he developed at-risk employer and national carrier member platform strategies. Drew began his career in provider strategy consulting at Sg2 Healthcare Intelligence in Chicago, Illinois. In his role as Vice President of Product Innovation he is helping bridge the opportunity between our clients' engagement goals and Clarity's suite of Accelerate Member Engagement (AME) fueled products.
Drew is a graduate of Texas Christian University with a degree in Entrepreneurial Management.