The Pandemic Means the Future of Healthcare Delivery is Now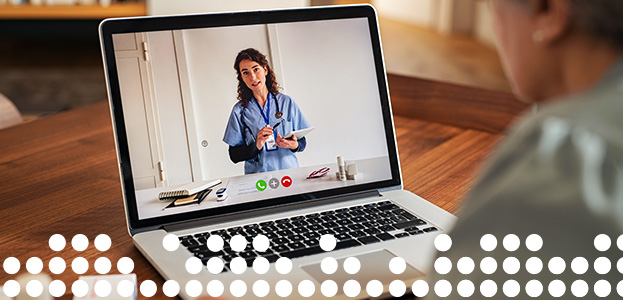 Think back to late Fall 2019.
Health plans were focused on ways to improve member health and trim costs. Member portals were widely available but less universally used and plans were working hard to increase registrations. Plans had made investments in telehealth but member/patient use was minimal. Plans were beginning to use chatbots for scheduling appointments or claims inquiries…
Then everything changed.
The global health crisis changed how healthcare services were provided. Use of some digital communication channels used by health plans skyrocketed as in-person interactions were put on hold and call-center staff moved home for the duration. Despite this shift, member portals failed to live up to their potential.
Nevertheless, in all this chaos was a tiny sliver of a silver lining for health plans: a huge acceleration to their strategy to increase member interest in the use of digital communication channels. This boost dovetailed with another high priority strategy for health plans: engaging members as partners in managing their health.
The pandemic demonstrated that member willingness is there. Now plans must deliver on valuable digital experiences to drive engagement and broader adoption.
What Drives Health Plan Member Engagement?
Value. As members become more active participants in managing their own health, they need information from their health plans. By providing targeted health advice, like how to stop smoking or manage blood pressure, health plans become a trusted partner in overall health management. This makes members feel their plan cares about their wellbeing.
Members are also increasingly interested in being smart consumers of health services. Plans that allow easy online access to provider bills and claims give members the insights they need to understand the value of plan benefits.
Members also appreciate convenience in how they communicate with health plans. Offering a mix of in-person and virtual options allows members to interact with plans on their own terms and schedule.
The Portal is Open Wide, But…
Prior to the pandemic, a Healthmine survey found that "While almost 90 percent of health plan members are connected to a member portal, only 21 percent are actually using the portal regularly."
Research shows that portals are key to member engagement in their own care. Portal adoption and use leads to increased patient participation in healthcare decisions (Wildenbos et al., 2017). But member satisfaction with health plan portals is lagging.
A recent JD Power survey found that overall, payers saw low consumer satisfaction with member engagement throughout the coronavirus pandemic, as plans scored an overall satisfaction score of 719 out of 1,000. However, the survey revealed that payers that partnered well with their members had high satisfaction.
Health Payer Intelligence concluded, "This year, as in the past, the numbers were clear: payers did not come across to members as delivering patient-centered care and communication."
This may simply be a mis-match in expectations. Members are looking for more outreach and proactive health information from payers, while health plans see portals as a passive, self-serve option.
Mobile healthcare app company, MobileSmith Health advises, "Providing personalized recommendations within healthcare insurance apps is something that has tremendous potential, especially in the context of lowering premiums for insurers."
Some options they suggest are information about local community events, information on nearby fitness centers, and daily health tips. Alerting members that plan portals and apps house high-value content and services that can help them live healthier is a smart communications strategy for payers.
Dialing for Doctors
Of all digital channels, telehealth saw the biggest uptick in adoption during the pandemic. According to America's Health Insurance Plans (AHIP), nearly all health insurers offered plans with some type of telehealth product in 2019. However, the AMA reports that telehealth visits made up less than 1% of total encounters in volume, nationally.
As AHIP reports, "For years, health insurance providers have been committed to ensuring that telehealth is used to improve affordable access and care for all patients, regardless of where they live and work. And since the start of the COVID-19 crisis, health insurance providers have supported federal and state policy changes to encourage telehealth use and to speed its adoption."
The boom in telehealth use was partly facilitated by policy changes initiated by payers. The Center for Connected Health Policy reports that "large private payers made an unprecedented number of coverage changes to their existing telehealth policies in response to COVID-19. Based on our analysis, these changes represent a seismic shift from business as usual in private payer telehealth coverage."
Such policy changes expanded into the public healthcare sector as well. While CMS traditionally had more restrictions around telehealth, pandemic waivers expanded the ability for organizations to video technologies to deliver care.
The Centers for Medicare and Medicaid Services (CMS) reported the average number of telehealth visits conducted prior to the pandemic was 13,000 a week. But in the last week of April 2020, Medicare providers completed almost 1.7 million telehealth visits.
Dynata's survey of Global Consumer Trends in telemedicine found that:
Telemedicine is being used widely during the pandemic – Among the 39% of people who consulted a healthcare professional, two-thirds used telemedicine, many of them for the first time (84%).
Telemedicine is likely to stick around – More than half (55%) of consumers reported a satisfactory experience with using telemedicine; and while healthcare professionals had a less positive experience, half of those surveyed believe telemedicine use will increase.
That is good news because there are significant benefits for health plans to this seismic shift: telemedicine use drives healthcare utilization and lowers costs; member satisfaction and loyalty improves; and payer quality scores improve.
As healthcare delivery returns to a more normal pattern and in-person clinical visits resume, payers will need to help members identify the types of visits that can be conveniently and effectively conducted via telehealth. This will be especially true for certain demographic groups.
Data from healthcare improvement company, Premier Inc., showed that "the use of ambulatory virtual visits during the third quarter of 2020 increased 30x year over year. The data also suggests there are multiple specialties that are ripe for continued use of telehealth-based services, including behavioral health, endocrinology, rheumatology and gastroenterology."
Even older adults who have traditionally been slower to adopt telehealth are onboard. A July 2020 survey from healthinsurance.com that surveyed Medicare-eligible Americans found a 300 percent increase in seniors using telemedicine services during the pandemic. "Prior to COVID-19, one in 10 used telemedicine; during the pandemic, 44 percent have used telemedicine. Promisingly, 43 percent intend on using it after."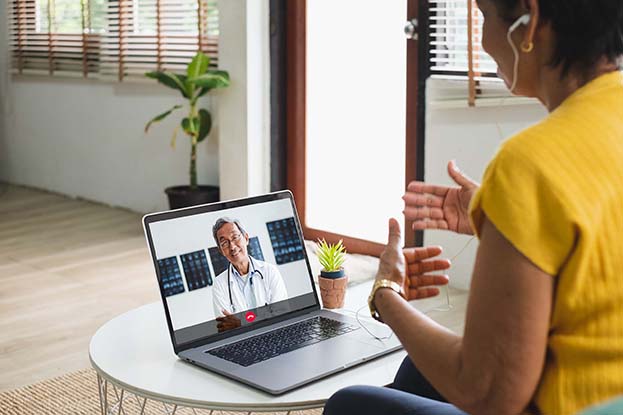 Another population that will benefit from expanded telehealth use are members in remote areas. Actuary.org explains: "telehealth improves the delivery of needed health care services in remote areas at a reduced cost, creating a channel of access to health care where little if any previously existed, and improving quality and continuity of care to quickly address and treat health conditions. It is reasonable to expect the services provided and the populations served will expand in the days ahead."
McKinsey is also bullish on the outlook for telehealth, "Strong continued uptake, favorable consumer perception, and tangible investment into this space are all contributing to the continued growth of telehealth in 2021." They also point out that "Investment in virtual care and digital health more broadly has skyrocketed, fueling further innovation, with 3X the level of venture capitalist digital health investment in 2020 than it had in 2017."
For health plans to drive continued and increasing engagement with telehealth, among all demographics, they will need to keep the option on members' radar through consistent communications.
Time for a Healthy Chat
Across the spectrum of digital healthcare options, chatbots are the newest entrant. Cognizant reports that "With the increased popularity of messaging platforms, as well as advancements in artificial intelligence (AI) and machine learning (ML), 2018 saw a surge in chatbot development for a range of business needs."
Cognizant even expects that "Over the next decade, the evolution of chatbot technology will force a total reimagining of insurance." That's a big statement, but they point out that there are opportunities for chatbots to provide services throughout the member lifecycle:
This transition isn't just on payers' wish lists. Consumers recognize the value of chatbots for specific services as well. Cognizant found that "69% of respondents said they'd prefer chatbots for receiving instant responses, and the same percent said they're most likely to use chatbots for service related inquiries." Market Research Future reports that "52 percent of patients acquire their health data through the use of healthcare chatbots."
Research from the Journal of Medical Systems identified the most valuable features of using chatbots in healthcare:
Anonymity: especially in sensitive and mental health issues.
Monitoring: awareness and tracking of user's behavior, anxiety, weight changes, to encourage developing better habits.
Personalization: Level of personalization depends on the specific application. Some applications make use of measurements of:

Physical vitals (oxygenation, heart rhythm, body temperature) via mobile sensors
Patient behavior via facial recognition

Real time interaction: immediate response, and notifications and reminders.
Scalability: ability to interact with numerous users.
Technology industry analyst, AI Multiple, points to specific use cases for chatbot that health plans can enact, like providing "insurance services and healthcare resources to patients and plan members. Moreover, integrating RPA or other automation solutions with chatbots allows automating insurance claim processing and healthcare billing."
Another use case is prescription refills. "Chatbots collect patient information, name, birthday, contact information, current doctor, last visit to the clinic, and prescription information. The chatbot submits a request to the patient's doctor for a final decision and contacts the patient when a refill is available."
Just as with portals and telehealth, members will need encouragement to transition appropriate health interactions to chatbots.
Converting Members to 'All of the Above"
The pandemic may have given digital channel use a boost but maintaining and growing member engagement over these channels will be the next task for health plans.
McKinsey explains the challenge: "research shows between 40 and 60 percent of consumers express interest in a set of broader virtual health solutions, such as a "digital front door." But "a gap has historically existed between consumers' expressed interest in digital health solutions and actual usage… proactive consumer engagement will all be important to sustaining and growing consumer use of virtual health as the pandemic wanes."
Increasing member engagement has been a top priority for health plans for years. And it is not easy, as Techcrunch acknowledges "Enrolling users is hard. Keeping them engaged is hard. Improving specific clinical outcomes — and proving it continuously — is especially hard. Making a great product requires an obsessive focus on a specific user and problem space, as well as relentless experimentation and iteration."
Health plans should look upon member communications as opportunities to deepen relationships with members, enlist them in managing their own health, and promote the use of digital channels throughout the member experience.
Testing and iteration are tools plans should employ to continuously improve member communications and boost response. When plans understand how and why members engage with them, and these learnings are then applied across all communications, the "hard" task of engaging members and expanding the adoption of digital channels like portals, apps, telehealth, and chatbots can get easier.