How Optimized EOBs Can Drive Consumer Engagement in Healthcare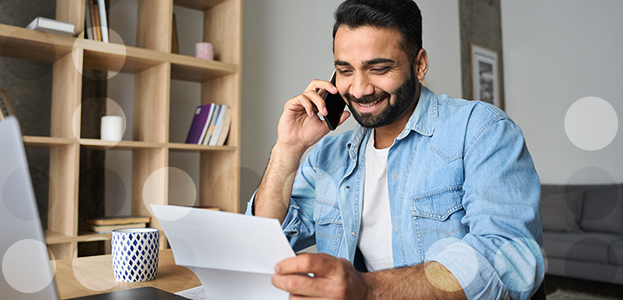 When it comes to consumer engagement in healthcare, the faster that health plans have a comprehensive communications strategy, the better. A good healthcare consumer engagement strategy, when done right, is like a good partnership between the healthcare organization and the member. The member gets comprehensive and relevant communications right from the start, limiting confusion and frustration, and healthcare organizations can drive engagement to high-priority communication initiatives.
While it's important to optimize welcome kits and enrollment letters, there's one piece of healthcare communication that, when optimized correctly, can be a game changer: EOBs. Let's talk about EOBs and how to drive quality consumer engagement with them over time.
Why are EOBs important in healthcare?
EOBs are important in healthcare because they provide the insured individual a clear explanation of what medical procedures and services are covered by insurance, and what they may owe. While it's not a bill, it does provide key insights into the breakdown of medical costs. And, when optimized, an EOB can drive great consumer engagement in healthcare.
3 Reasons Why Engagement With EOBs Matters
1. Optimized EOBs can provide a greater return on investment for plans
Optimized EOBs can help insurers get a greater return on investment by driving members to their programs and tools. An EOB doesn't only have to list out the explanation of benefits; it can encourage members to consider other programs, benefits and healthcare options. Increased member participation boosts member engagement and brings value back to the plan.
2. Optimized EOBs can drive members to take action
One of the best perks of optimized EOBs is that they can drive members to take action and, therefore, improve engagement with high-priority initiatives. Combining personalization and the right technology, like easy to access QR codes, can give members the tools they need to take action quickly.
3. Optimized EOBs can improve overall health and wellness
By including easy-to-follow instructions for engaging with network selection tools, in-home assessments, and chronic condition management programs, along with some personalization and calls to action, insurers can lead members to valuable tools that help them make good and well-informed decisions about their healthcare.
One example of this is how treatments listed on EOBs can directly correlate with CTAs on the communication. For instance, if someone is classified as a fall risk, an insurer could drive them to sign up for an in-home assessment on the EOB. That way, it's a win-win for both: The member is engaged with their benefits and on a path to better health and wellness.
How to Optimize EOBs to Drive Member Engagement
The perks of optimizing EOBs are clear. Now, here are some tips on how to optimize them to boost consumer engagement in healthcare.
1. Keep the message relevant and engaging
Let's shift the perspective from healthcare to shopping for a moment. Statistics show that 80 percent of shoppers are more likely to buy from a brand that personalizes their experiences. That makes sense—as people, we want to feel like part of a community and know that our wants and needs are cared about.
The same thing can be said for members—they want to know they're not just a number. Personalizing the EOB and reminding them of important enrollment dates or benefits specific to them, can make them more engaged with their healthcare. This can also relate back to the services listed on the EOB. Adding a specific CTA about a service (like scheduling an assessment or signing up for a program) can keep members engaged in a relevant way.
2. Use action-driven language
Creating strong, action-driven calls to action can increase consumer engagement with EOBs. Pair it with an easy way to access whatever it is the health plan is driving the member to (such as a QR code or an easy URL to access on desktop or mobile) and watch how the overall engagement changes.
3. Give them perks
A great way to optimize EOBs for member engagement is to offer members perks, or incentives, for engaging with health plan communications. Offer something enticing that will drive them to take action, such as access to fitness programs, nutrition counseling, weight management programs, and more.
Need help accelerating member engagement?
For health plans looking to increase consumer engagement in healthcare, Clarity is here to help. We're the industry leaders in healthcare communication, providing comprehensive SaaS technology and top-notch service to enhance communications like EOBs, ID cards, Member Guides, and other crucial healthcare communications to drive action.
We believe in engaging members from the very beginning and using clear data to monitor the effectiveness of member correspondence from the start. That way, health plans get a clear picture of what's working, and what could be improved.
Come chat with us and learn how health plans can combine strategic communications and data to boost member engagement and transform member correspondence from a cost center to a value driver for health plans.