Many health plans today know that there is value in improving their member engagement, but most are left scratching their heads when it comes to identifying what actions move the needle and quantifying the return on the dollars invested in those actions.
In a recent webinar, Clarity's Vice President of Product Innovation, Drew Corbett, discussed how engagement intersects with plan performance measures and identified seven high-value, high-impact member activities and benefits that make for happier and healthier members and save money and boost ROI for health plans.
Why Member Engagement?
Engagement has long been a priority for health plans as a measure to reduce the risk and cost of member attrition. More recently, it has become mission critical due to changes in how consumers and government agencies evaluate plan care and service performance.
Namely, the Centers for Medicare and Medicaid Services (CMS) measures how well Medicare plans perform using a star rating system. McKinsey predicts that these performance metrics will decline as three major changes to the methodology CMS uses to calculate star ratings go into effect in 2023:
CMS will no longer universally apply the disaster provision, which allowed contracts to take the "better of" current or historical performance for most measures in 2022.
CMS will implement annual upper and lower limits, or guardrails, on changes in cut points for non-CAHPS measures.
CMS will remove performance outliers from the calculation of non-CAHPS measure rating cut points in rating year 2024 using the Tukey outlier deletion method.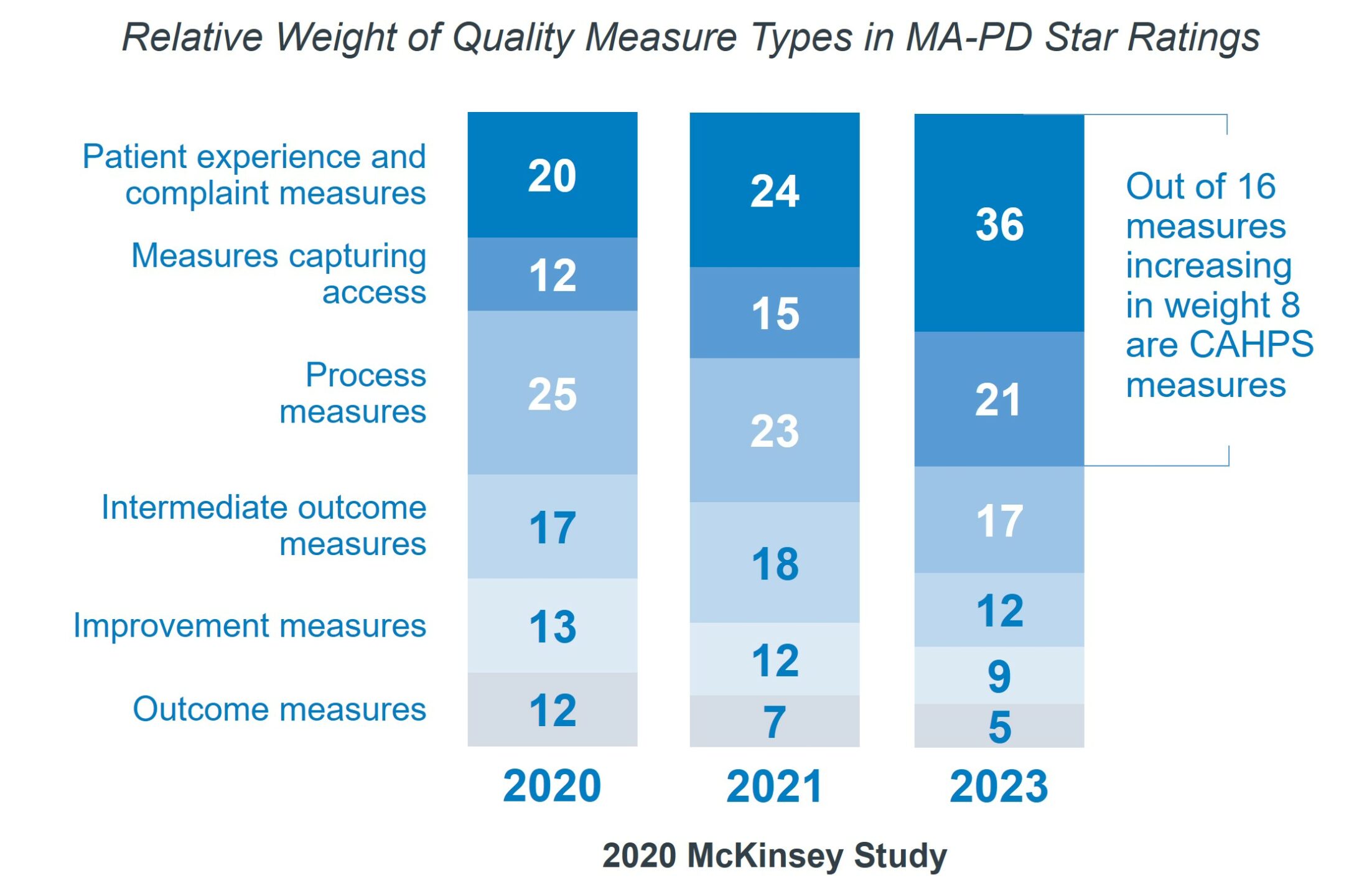 CMS will continue to put more weight on consumer experience measures. Beginning in 2021, Consumer Assessment of Healthcare Providers and Systems (CAHPS) scores were quadruple weighted in CMS star ratings. CAHPS surveys ask beneficiaries about their experience with, and ratings of, their providers and health plans. Currently, these surveys represent 32% of a plan's overall star rating.
Another integral factor in CMS star ratings is the Healthcare Effectiveness Data and Information Set (HEDIS). HEDIS is a comprehensive set of standardized performance measures designed to provide purchasers and consumers with the information they need for reliable comparison of health plans.
The major takeaway is that star ratings matter, and the focus is on quality and member experience. For plans, graduating to a 4- or 5-star rating is well worth the effort. Plans with 4 stars or higher can earn higher reimbursements and bonus payments, and 5-star plans get an additional nine months to market their plan and enroll members. For lower performing plans, a 1-star rating improvement can drive an 8-12% increase in enrollment the following year.
There are dozens of metrics associated with star ratings. And for many of them, the margins between each rating are razor thin. For example, a mere 11 points separates a 3-star rating from a 4 in colorectal cancer screening. This is value you can achieve with small changes that have a big impact.
Increasing members' engagement with and ownership of managing their care is critical to plan success in boosting star ratings. Encouraging members to take specific high-value actions can have a significant return on investment (ROI) for payers.
The ROI of High-Value Actions
Our criteria for identifying member actions with the highest return on investment were:
Actions that can be tied to a specific CMS star score, HEDIS measure, or CAHPS survey question
Actions that apply to a broad membership
Actions that have a high unit value per completion
Actions that generally support satisfaction at a human level
With these in mind, here are the top seven member actions that have been shown to drive ROI for health plans.
#7 High-Value Action: Portal Registration
The digital relationship is an indispensable component of member engagement. Portal registration in particular is valuable because it is applicable to every single member, and the basics of getting care are best administered via portals.
An Accenture report titled, Health experience: The difference between loyalty and leaving, found that respondents who engaged with their health plans digitally were more likely to stay with their payers (64%) and more likely to find their payers easy to work with (74%).
Similarly, the 2022 U.S. Medicare Advantage Study by J.D. Power found that member satisfaction scores were significantly higher when members registered and logged in to the portal than when members neither registered nor logged in.
Specific star rating metrics impacted by portal registration include:
CMS: Getting Needed Care (C17)
CMS: Getting Appointments and Care Quickly (C18)
CMS: Customer Service (C19)
Action Plan
Portal registration is a perfect entry-level engagement action for payers. By trying different tactics for different audiences, plans can easily learn what moves the needle in registrations.
While this action value is estimated at $9 per member, with a potential audience of millions, the opportunity is significant. The engagement techniques that have proven to be most effective for this high-value action are:
#6 High-Value Action: Well-Child Visits & Prenatal/Postnatal Care
According to the Centers for Disease Control and Prevention (CDC), well-child visits are essential for tracking growth and developmental milestones, discussing any concerns about a child's health, and getting scheduled vaccinations to prevent illnesses, like measles and whooping cough.
A 2022 article in the Journal of the American College of Cardiology names cardiovascular events as the leading cause of maternal mortality in the United States. With proper perinatal care, as many as 60% of the 700 pregnancy-related deaths in the U.S. each year are preventable.
Specific star rating metrics impacted by well-child visits and perinatal care include:
CAHPS: Child Got Care for Illness/Injury As Soon As Needed (Q4)
CAHPS: Child Got Non-Urgent Appointment As Soon As Needed (Q6)
CAHPS: Easy for Child To Get Needed Care, Tests, or Treatment (Q9)
CAHPS: Respondent Got Child an Appointment With Specialists As Soon As Needed (Q21)
HEDIS: Prenatal and Postpartum Care (PPC)
HEDIS: Well-Child Visits in the First 30 Months of Life (W30)
Action Plan
Encouraging well-child and perinatal care appeals to new parent sensibilities and their sense of responsibility for their child. Busy parents also appreciate communications that emphasize access, ease, and convenience in scheduling visits.
This action value is estimated at $500 per member. The engagement techniques that have proven to be most effective for this high-value action are:
#5 High-Value Action: Emergency Department Avoidance
An analysis of 750 hospitals by Premier Inc. found that preventable emergency department (ED) use costs an estimated $8.3 billion annually. Unnecessary ED visits, in which care could have been provided in another less costly location, often lead to hospitalizations and other high-cost services.
Specific star rating metrics impacted by ED avoidance include:
CMS: Getting Needed Care (C17)
CMS: Getting Appointments and Care Quickly (C18)
HEDIS: Emergency Department Utilization (EDU)
Action Plan
Many patients who go to the emergency department do so because they are not aware of the options available to them for non-emergency injuries and illnesses. Informing members of the types of visits or consultations that can be handled via urgent care facilities, telehealth, nurse line, or chatbot – options that are likely more convenient for the member – can lead to significant cost savings for health plans.
This action value is estimated at $500 per member. The engagement techniques that have proven to be most effective for this high-value action are:

#4 High-Value Action: Find a Primary Care Provider
An article in The University of Chicago Magazine asserts that revitalizing the primary care doctor-patient relationship for Medicare patients at high risk of hospitalization will improve outcomes and potentially save Medicare tens of billions of dollars annually. Patients with multiple complex medical conditions, or comorbidities, are among the highest-need, highest-cost patients in the healthcare system. Care for such patients, who represent about 25% of national Medicare enrollment, accounts for 85% of Medicare hospitalization costs, at $50,000 or more per year.
Specific star rating metrics impacted by finding a primary care provider include:
CMS: Annual Flu Vaccine (C03)
CMS: Getting Needed Care (C17)
Action Plan
Establishing a relationship with their physician causes members to feel safer, makes visits easier and more convenient to schedule, and encourages greater member participation in self-care and overall health empowerment.
This action value is estimated at $250 per member. The engagement techniques that have proven to be most effective for this high-value action are:

#3 High-Value Action: Mail-Order Pharmacy Enrollment
The cost of medication use extends beyond the up-front purchase price. It includes the morbidity and mortality that can result from nonoptimized medication regimens, particularly medication nonadherence. A study published in the Annals of Pharmacotherapy found that the estimated annual cost of prescription drug-related morbidity and mortality resulting from nonoptimized medication therapy was $528.4 billion in 2016 U.S. dollars.
Specific star rating metrics impacted by mail-order pharmacy enrollment include:
CMS: Getting Needed Prescription Drugs (D06)
CMS: Medication Adherence for Diabetes Medications (D08)
CMS: Medication Adherence for Hypertension (D09)
CMS: Medication Adherence for Cholesterol (D10)
Action Plan
Because taking medication according to the prescription is critical to its efficacy, enrollment in a mail-order pharmacy can ensure quality of care. On the member experience side, the convenience and reliability of refills is unbeatable and can build plan loyalty.
This action value is estimated at $360 per member. The engagement techniques that have proven to be most effective for this high-value action are:
#2 High-Value Action: Annual Wellness Visit (Bonus: In-Home Health Assessment)
A 2022 Health Care Insights Report from CVS Health found that 50% of consumers say that their annual checkup is what most often leads them to visit or communicate with their primary care provider, and 59% said it was important to their health that they have access to virtual and telehealth services. A November 2020 Harris poll of over 1,000 U.S. seniors (ages 65+) found that 52% say they are facing barriers to accessing medical or social services.
Specific star rating metrics impacted by annual wellness visits include:
CMS: Getting Needed Care (C17)
Social Determinants of Health Risk Adjustments
Action Plan
The annual wellness visit is the cornerstone of preventative care, and communications can serve as an important reminder to make an appointment. By providing members with simple instructions and easy access to schedule visits, payers can ensure this critical checkpoint is not missed.
This action value is estimated at $1,000 per member. The engagement techniques that have proven to be most effective for this high-value action are:
#1 High-Value Action: Condition Management Programs
Six in ten adults in the U.S. have a chronic disease, and four in ten have two or more, according to the CDC. Chronic diseases, like diabetes and heart disease, are the leading causes of death and disability, and managing those diseases consumes large amounts of healthcare resources and drives the nation's $4.1 trillion in annual healthcare spending.
Specific star rating metrics impacted by condition management programs include:
CMS: Osteoporosis Management in Women Who Had a Fracture (C08)
CMS: Diabetes Care (C09, C10, C11)
HEDIS: Breast Cancer Screening (BCS-E)
HEDIS: Cervical Cancer Screening (CCS)
HEDIS: Colorectal Cancer Screening (COL)
HEDIS: Hemoglobin A1c Control for Patients With Diabetes (HBD)
Action Plan
Personalization is key to building engagement with members suffering from chronic illness. One-size-fits-all communications won't have the contextual awareness that signals to the member the plan's appreciation for their individual needs.
This action value is estimated at $450 per member but largely depends on the condition. Certain programs, like those that address obesity and weight management, are valued significantly higher at $1,000 per member. The engagement techniques that have proven to be most effective for this high-value action are:

The Power of Member Communications
Plans can increase engagement with and participation in these high-value actions today using a tool already at their disposal: member communications. That's right – the communications you already send can influence perceptions and spur actions in members when optimized using the art and science of engaging correspondence.
When it comes to the design and content of communications, your members are persuaded by the same marketing techniques and behavioral principles that are effective across industries. With the right strategies, a member's human nature can be triggered to shape attitudes and prompt responses.
Redesigning communiques into full color and professional looking touchpoints can improve readability and clarify messaging. Teeing up the desired behavior in actionable ways, and in prominent locations, makes it easy for members to engage in health plans' highest priority initiatives. These behavioral science tactics have been proven to prompt action:
QR codes take the member directly where we want them to go, making it simple for them to complete the desired action, like registering for a portal.
Johnson boxes leverage the tendency of the human eye to prioritize information in the top right-hand corner of a page.
The Zeigarnik effect taps into humans' innate desire to complete an incomplete checklist of tasks.
Print-on-demand stickers with calls-to-action placed directly on ID cards are highly effective in eliciting responses.
In addition to these, there are techniques that can optimize almost every line in a standard reminder letter. Each aspect of a communique should be evaluated as to whether it serves as a headwind or tailwind on a population's likelihood to act.
For example, placing the date so it shows through a double-window envelope increases open rates. Personalizing the introduction with the member's name has been proven to lift responsiveness. Uncertainty about coverage can be a barrier to participation in screenings. Reassuring the member that screenings are copay-only or free-of-charge can remove that barrier.
Clarity has worked with plans to implement best practices in communication engagement and have identified and quantified techniques that are proven to prompt member actions.
The compound effect of these best practices can positively impact member experience, and plans will see the results in higher CAHPS survey results, HEDIS measures, and ultimately, CMS star ratings.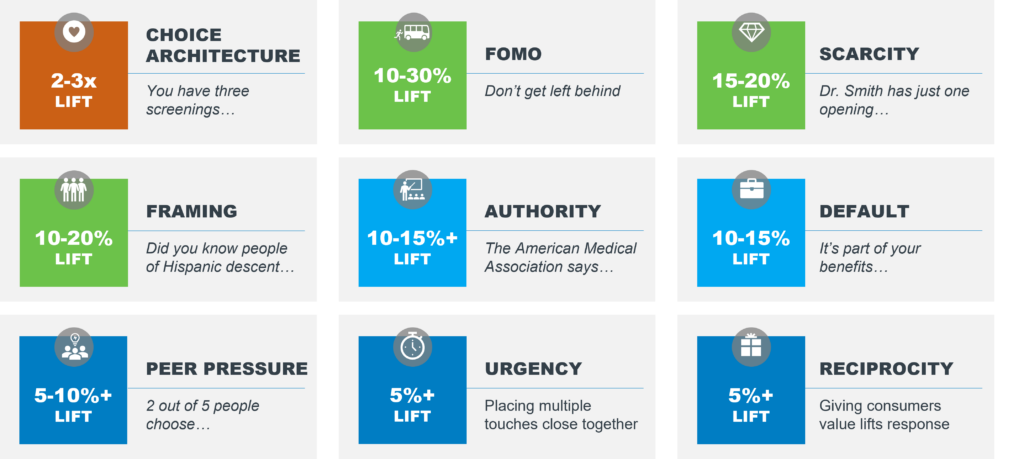 The Urgency of Member Engagement
The methodology changes and reweighting in star ratings to emphasize patient experience will be felt by health plans beginning this year.
McKinsey warns, "Our analysis suggests that half of plans could see reduced ratings in rating year 2023 based on changes to the disaster provision, and that more challenging cut points could separately drive $800 million in annual revenue impact to plans in rating year 2024."
The seven high-value member actions recommended in Clarity's webinar and described above can be boosted using the engagement optimization techniques that Clarity clients have implemented.
As plans determine which engagement actions are most valuable and strategically aligned with their product and service investments, consider enhanced communications to be table stakes. Getting these right is a great place to start. Contact Clarity to learn more.